Denis Larouche A.O.C.A.

Alumnus of the Ontario College of Art & Design

Événements à venir

Upcoming Events

@
Represented by:
Cube Gallery - 1285, Wellington West., Ottawa, ON
Ottawa Art gallery, (Commercial Gallery "Annexe"), 2 Daly, Ottawa ON
Galerie Arts Sutton, Sutton, QC (member artist )
Arta Gallery, Distillery District, Toronto, ON
Recent events...
The Quantic Landscape, Solo exhibition
Exhibition of paintings combining stylised landscapes with references to particle physics, 27 September to 23 October 2013
Atrium Gallery, Ben Franklin Place, 101 Centrepointe Drive, Nepean, ON
E=mc(cubed) - Landscapes & Quantum States - Solo exhibition
Cube Gallery, 1285, Wellington West, Ottawa
June 30 to July 26, 2015
Vernissage : Sunday July 5, 3:00 pm to 5:00 pm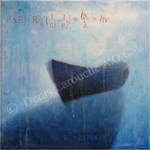 The exhibition catalogue is available for purchase at Cube Gallery.
It may be previewed online by clicking on the icon::

Currently...
VARIED WORKS - Regular complement of gallery artists
Cube Gallery, 1285, Wellington Street W, Ottawa
2018 MEMBERS SHOW ARTS SUTTON - For members of the gallery
Arts Sutton Gallery, Sutton QC
7, Academy Street, Sutton, QC J0E 2K0
Thursday May 3 to Monday June 4, 2018
Website : www.artssutton.com
Info: Dominique Parent (450) 538-2563 - Info@artssutton.com

Upcoming events...
GREAT BIG SMALLS XIV - Collectif d'artistes - Œuvres de petits formats
Cube Gallery, 1285, rue Wellington ouest, Ottawa
du 20 novembre au 31 décembre, 2018
Vernissage le jeudi, 22 novembre, en soirée
SOLO SHOW - Details to come
Old Chelsea Gallery,
July 2019