Denis Larouche A.O.C.A.

Alumnus of the Ontario College of Art & Design

Événements à venir

Upcoming Events

@
Represented by:
Ottawa Art gallery, (Commercial Gallery "Annexe"), 2 Daly, Ottawa ON
Galerie Arts Sutton, Sutton, QC (member artist )
Past events...
The Quantic Landscape, Solo exhibition
Exhibition of paintings combining stylised landscapes with references to particle physics, 27 September to 23 October 2013
Atrium Gallery, Ben Franklin Place, 101 Centrepointe Drive, Nepean, ON
E=mc(cubed) - Landscapes & Quantum States - Solo exhibition
Cube Gallery, 1285, Wellington West, Ottawa
June 30 to July 26, 2015
Vernissage : Sunday July 5, 3:00 pm to 5:00 pm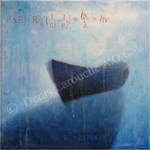 Exhibition catalogue from solo exhibition, available for purchase at Cube Gallery.
It may be viewed online by clicking on the icon::
Old Chelsea Gallery
INTEGRATIONS - Solo show
July 12 to 31, 2019
Gallery opened, Wednesday to Saturday, 11:00 am to 6:00 pm
Sunday, 11:00 am to 5:00 pm
Vernissage, Sunday, July 14, 1:00 pm to 4:00 pm

Currently...
Ottawa Art Gallery's Galerie Annexe
50 Mackenzie King Bridge, Ottawa, ON, K1N 0C5, | 613.233.8699 | info@oaggao.ca
https://oaggao.ca/galerie-annexe

Upcoming events...